Zinkworks announces its partnership with Irish Manufacturing Research (IMR), providing Zinkworks access to IMR's 5G standalone mobile private network (MPN) testbed. This will allow the future exploration and development of new use cases and advancements within private networking for Industry 4.0.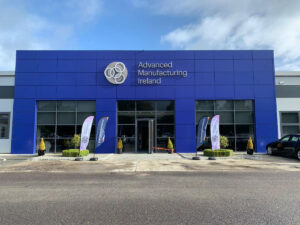 The private 5G market is expected to see significant growth in ports, manufacturing and logistics hubs. These facilities require a network which can communicate and track hundreds of pieces of equipment within a secure environment. Private 5G offers this while also providing high-speed connectivity, low latency, and energy efficiency, all of which will be required as part of Industry 4.0.
Zinkworks specialises in private 5G technology and invests in developing new use cases to support this growth. AT IMR in Mullingar Zinkworks will be initially testing its Networked Device Orchestrator [NDO] application on its private 5G network. NDO has been purpose-built for areas such as smart factories and ports. It enables the orchestration of connected equipment, predicting and avoiding demand spikes before they impact the network, and empowering enterprise users to align their internal business rules to the available network capacity.
Paul Madden, CEO at Zinkworks, "Zinkworks will have the ability to connect to IMR's MPN to future test and develop our NDO application on cutting-edge robotics, production lines, cameras and other equipment, giving us the chance to really challenge our solution by replicating some of the most complex real-world environments."
Barry Kennedy, CEO at IMR welcomed the partnership by saying "We are extremely excited to have Zinkworks join our private 5G testbed to further develop new uses cases for industry 4.0. At IMR our aim is to identify new and emerging technologies like Zinkworks NDO application. I am excited to see what future developments come from this."
The partnership between Zinkworks and Irish Manufacturing Research (IMR) is set to drive the discovery and creation of new applications for private 5G networks, which are predicted to experience substantial expansion in the near future. As leading players in this revolutionary technology, Zinkworks and IMR are poised to shape the future of business operations through their developments in private 5G.
For more information about Zinkworks, visit www.zinkworks.com or information about Irish Manufacturing Research (IMR) visit www.imr.ie.
About Zinkworks
Zinkworks provides turnkey development services, headquartered in Athlone, Ireland. They utilise the latest innovative technologies to bring industry-leading expertise to their clients, primarily in the Telecommunications and Financial services sectors.​ Zinkworks are adept at developing custom innovations that streamline their clients' workflows and improve operational efficiency. With a commitment to quality and customer satisfaction, they have earned a reputation as a trusted partner for businesses seeking transformative software services.
About Irish Manufacturing Research
Irish Manufacturing Research (IMR) is a leading manufacturing Research and Technology Organisation with labs and industrial pilot lines in Dublin and Mullingar, Ireland. IMR works with leading global and indigenous brands to de-risk new and emerging technologies and to deliver high impact collaborative research to enable global leadership in advanced manufacturing. IMR has over 70 researchers with 100's years of combined Industry Expertise working in areas such as Digitisation, Advanced Robotics & Automation, Sustainable Manufacturing, and Design for Manufacturing.